For Eli: Milligan University hosting special cross country event to honor fallen teammate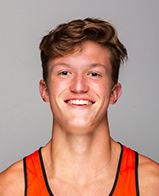 The Milligan University cross country teams are celebrating the life of one of their teammates with a special event on Friday.
The Eli Cramer Invitational has a 2 p.m. start at the M Training Loop on campus. Cramer, a 20-year-old sophomore from Murfreesboro, was killed during a training run in Virginia in March.
The driver that police said struck the athlete had his charges bound over to a grand jury last week.
(IMAGE: Courtesy of Milligan University Athletics)