Students questioned, cell phones taken as part of threat investigation at Happy Valley High School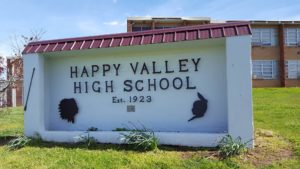 A police presence and a soft lockdown were triggered Thursday afternoon at Happy Valley High School in Elizabethton following reports of a student making threats to harm others.
No weapons were found according to Carter County Sheriff Mike Fraley who also said in a statement that the students involved were interviewed and some cell phones were seized as evidence.
The report said the investigation is continuing and charges are pending.
(IMAGE: HVHS / Carter County Schools / Official Facebook / DPI)