NEW: District Attorney calls out Ballad Health CEO, JCMC staff for "unacceptable" treatment of rape victim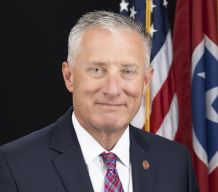 First Judicial District Attorney General Steven Finney has called out personnel at Ballad Health and the health system's CEO Alan Levine to protest the treatment of a rape victim last month at Johnson City Medical Center.
The victim was carjacked at an ATM and then sexually assaulted at an abandoned home and then taken to the hospital. Finney listed a string of complaints against JCMC staff including the victim having to wait five hours until a sexual assault kit could be administered for evidence.
The attorney general said the victim was directed to the ER waiting room instead of a designated area for victims, was not tended to by JCMC nurses when taken to another area, was given a cup when asked to use the bathroom, and was informed along with police that a single nurse could not be found that was willing to be in the room when the kit was administered.
The letter that was hand-delivered to Levine concluded with a statement from Finney: "Our victims and your patients deserve better than this."
Finney's letter was emailed to local media just after 4 p.m. Tuesday.
A response from Ballad Health or Levine had not been posted or shared with local media as of 5:30 p.m. Tuesday.
Police arrested and charged Christopher Wayne Bennett with especially aggravated kidnapping, aggravated rape, carjacking, robbery, and violation of sex offender laws in connection to the case. His bond was increased to $500,000 in a hearing last week in Washington County General Sessions Court.
(IMAGE: Tennessee District Attorney General Convention / Official website / DPI)