Owners of Yee-Haw Brewing, Ole Smoky Moonshine acquire Ober Gatllinburg property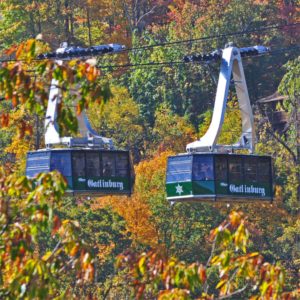 The owner of Yee Haw Brewing in Johnson City and Ole Smoky Moonshine has just added the Ober Gatlinburg property to his portfolio.
A report from the attraction confirmed the sale to Joe Baker along with Corey Cottongim and Chuck Edwards who are all natives of Sevier County.
The ski resort went into operation in the mid-1970s and then expanded for year-round operation.
Here is a press release issued by the company:
GATLINBURG, Tenn. – A local group, led by the families of Joe Baker, Cory Cottongim, and Chuck Edwards, announced
they have purchased Ober Gatlinburg, Inc. the premier, year-round tourism attraction in the Smokies. It is the only ski
area in the state of Tennessee.
"Gatlinburg is our home," said Baker. "The vision for Ober Gatlinburg that was laid out by its founder, Claude Anders, is
inspirational. He saw that the greatest views of the Smokies exist up there, high above town, and made it someplace
special. His sons have carried on his legacy, and we're looking forward to celebrating their heritage and continuing their
vision."
"The Baker family and their partners care deeply about this community," said Kent Anders, former President of Ober
Gatlinburg, Inc. "Families have been making memories here for over 50 years, and we're excited to see the opportunities
that this transition will offer our guests and employees."
The group has hired Mark Adams, former President and CEO of the Gatlinburg Convention and Visitors Bureau, to take
the helm at Ober Gatlinburg as its President & CEO.
"Having led the convention and visitors bureau in Gatlinburg over the past five years, I know firsthand how special
Gatlinburg is as a premier travel destination," said Mark Adams, Ober Gatlinburg's incoming president. "I am so excited
for the opportunity to build on Ober's rich history and lead the Ober family for years to come."
Ober Gatlinburg is a favorite year-round, family friendly destination in East Tennessee. Originally named the Gatlinburg
Ski Resort, it first opened in 1962. Claude Anders built the Gatlinburg Aerial Tramway in 1973. The Anders Family took
over the Ski Area Lease in 1975, then merged with the Gatlinburg Aerial Tramway and was incorporated as Ober
Gatlinburg in 1977. Through the years, the family continued to grow the ski area with slope expansions, new lifts and
snow making capabilities. Counter seasonally the family friendly amusement park also grew adding new attractions
including an Alpine Slide, Indoor Ice Arena, Wildlife Habitat, Scenic Chairlift, Ski Mountain Coaster, and a year-round
tubing hill among other attractions.
Jessi and Joe Baker were born and raised in Sevier County, Tennessee. After college they returned to East Tennessee
where they both served as prosecutors and developed a law practice. In 2010, the Bakers founded Ole Smoky Distillery
and then Yee-Haw Brewing in 2016.
(IMAGE: Ober Gatlinburg / Official Facebook / DPI)