Mountain City couple accused of fleeing police with child inside vehicle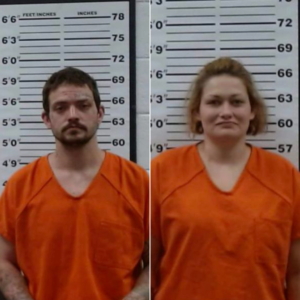 A Mountain City couple was arrested on Tuesday after they reportedly led police on a pursuit while a child was in the vehicle. According to a report, deputies responded to two separate disturbance calls involving the same male suspect– the last one where he was allegedly running nude outside.
Both times, police were unable to locate the man, however they did get a vehicle description. Eventually, the car was seen on Highway 67 West and a traffic stop was initiated. The driver fled and began driving erratically, at one point striking a patrol vehicle.
Once the vehicle stopped, police took the driver, Megan Sedgwick and the passenger, Thomas McCauley into custody. Deputies discovered a child was in the back seat of the vehicle the whole time, and the pair was charged with aggravated child abuse, among other related charges.
(Images: MCPD)