Media report: WrestleMania to slam into Nashville's new stadium in 2027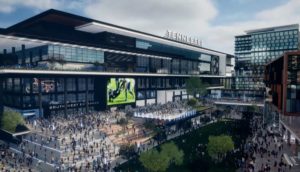 The first shovel of dirt has not been turned on a proposed billion-dollar dome stadium in Nashville but a prospective client has already called dibs on a major event inside the new structure.
The Tennessean reported Monday that World Wrestling Entertainment has given city leaders a verbal commitment to present the company's premiere attraction WrestleMania at the stadium in 2027.
Taxpayer and city dollars generated by a hotel tax and other means will help in the construction of the stadium for the NFL Tennessee Titans which will also be a major entertainment venue in the Music City.
Nashville to host WWE WrestleMania 43 if new enclosed stadium built https://t.co/YFfWoHNoxA pic.twitter.com/8Fs8MHzcoE

— Wrestling Observer (@WONF4W) November 21, 2022
The economic impact WrestleMania can bring to cities is in the tens of millions due to the event becoming an international attraction that is usually held over a two-day period in early April each year.
(IMAGE: Tennessee Titans / Official YouTube / City of Nashville)