Candyland Christmas to light up downtown Johnson City on Nov. 26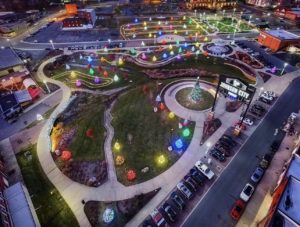 This Saturday marks the beginning of Johnson City's Candyland Christmas, an annual event that floods the downtown area with hundreds of Christmas trees. Organizers say more than 150 trees decorated by local businesses and nonprofits will cover both King Commons and Founders Park.
The installation is free to the public, and festivities kick off with a grand tree lighting ceremony at the big Johnson City sign in King Commons on Saturday night at 6:30. Free Christmas cards and hot chocolate will be available. More details on the city's website.
(Image: Downtown Johnson City)