Jonesborough preparing to turn residential water on in phases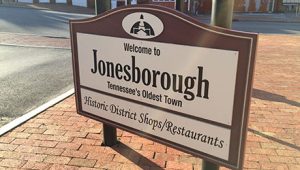 Washington County, TN leaders say after dozens of waterline leaks were repaired so far, water service for businesses is being restored, and residential water is next. Frigid cold weather over the holiday weekend caused severe damage to county water lines, sparking outages for around 80 percent of residents.
A Wednesday morning update says crews re-pressurized and restarted water in the downtown area, which went well. The update reports water tank levels were at 21 feet at 9 AM Wednesday, and the ideal level is between 40 and 50 feet, with below 20 considered critical.
Plans to restore residential water in phases will happen next. Crews will begin in the Southern parts of the county and work Northeast. The town is still distributing water bottles to affected residents, from 6 to 8 PM Wednesday at Lamar and Grandview Elementary Schools. No exact timeline on restoration has been given.
(Image: Town of Jonesborough)