January marks 10th anniversary of ETSU's food pantry project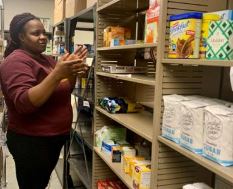 East Tennessee State University President Brian Noland took to social media to signal the 10th anniversary of Bucky's Food Pantry project.
Bucky's Food Pantry recently celebrated its 10th anniversary. The pantry is a great example of Bucs helping Bucs. Learn more: https://t.co/D2DncFGjKs

— Brian Noland (@ETSUPrez) January 9, 2023
The center that provides food, hygiene products, and other materials to qualifying students has grown to three locations after its initial offering at the Ballad Health Athletic Center.
More than 5,000 boxes and bags of food have been distributed since the pantry opened.
(IMAGE: East Tennessee State University)