Kingsport's Public Works Day, Everyone welcome to play with big trucks, street sweepers, and more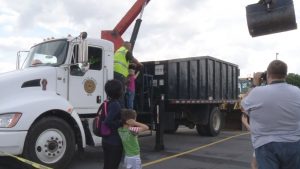 Today in Kingsport from 10AM until 2PM the young and the young at heart can play with "big toys" and learn more about what Kingsport's Public Works Department does everyday.
The Farmers Market will be full of heavy equipment like garbage trucks, street sweepers, back hoes and paving machines. Participants will be allowed to operate some of the automated equipment. Kids will be able to paint snow plows, man hole covers, and play an assortment of games.
Food will be provided at a first-come, first-serve basis.