Kingsport Police Release More Details in Child Abduction Case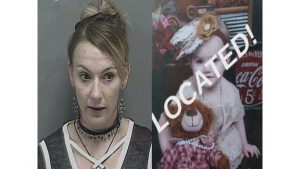 Kingsport Police have released more information on a case that prompted a brief Amber Alert.
.
Brooke Hayes, 28, asked if she could drive an acquaintance and her child to Walmart on Fort Henry Drive. The mother left her child with Hayes as she went shopping. Upon her return she found that her child, vehicle and Hayes had disappeared.
According to Kingsport police, she waited two hours before alerting them to the situation. Once alerted, officers were able to contact Hayes over the phone. She initially agreed to bring back the child.
Hayes was not true to her word. The Tennessee Bureau of Investigation issued the Amber Alert. Her and the missing child, Madalynn Pearson were found not long after. Hayes has been cahrged with especially aggravated kidnapping and motor vehicle theft. She is being held in the Sullivan County Jail on a $30,000 bond.