Johnson City man arrested on drug and weapon charges after meth deal at local hotel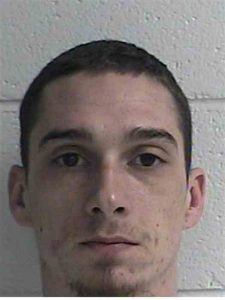 In Johnson City after a methamphetamine dealing at a motel, a man has been charged with weapon and drug violations.
25-year old Jonathan Reynolds was arrested Tuesday on charges of possession of methamphetamine for resale, possession of a firearm during the commission of a dangerous felony, maintaining a dwelling where narcotics are sold, simple possession and possession of drug paraphernalia.
Police responded to a report of a drug deal at a Johnson City hotel, and after investigating, they located Reyonlds. He was in possession of a firearm, methamphetamine and drug paraphernalia.
Reynolds was arrested and taken to the Washington County Detention where he is being held on a 26-thousand dollar bond. His arraignment is scheduled for Wednesday in Sessions Court.