One Man Arrested, Another Man On the Run After Hawkins County Deputies Break Up Alleged Meth for Sex Deal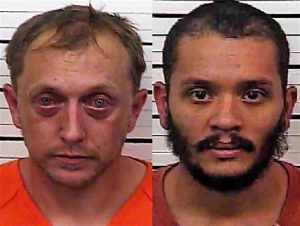 On a dead end street near Rogersville, police say two men conspired to trade meth for sex. One man still remains at large while the other man was taken into custody by police.
30-year-old Ryan Stroop allegedly fled on foot into a nearby wooded area close to Points Brook Drive, after the Hawkins County Sheriff's Office arrived to investigate a suspicious BMW.
34-year-old Dustin Potter, the other man in the BMW, was taken into custody by Deputy Adam Bledsoe. Allegedly, Potter had a meth pipe, digital scales, and two bags of meth on his person, which Deputy Bledsoe subsequently found during the arrest.
Although police are still searching for Stroop, Potter was taken into the Hawkins County Jail on a $7,500 bond. He faces multiple charges including possession of drug paraphernalia, possession of meth with intent to sell, and criminal impersonation.