Greene County Police Chase Leads to Arrest of Two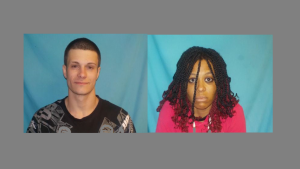 An early Friday morning police chase led to the arrest of a Greene County man and woman.
The Greene County Sheriff's Department reported that a deputy stopped the couple around 3 A.M. near the 900 block of East Andrew Johnson Highway. Once the couple saw the police lights, they sped away, running a red light before turning onto Main Street, according to police.
After the vehicle ran another red light and crossed over into oncoming traffic, it crashed on Poor Farm Road.
Officers identified Dillon Boyd as the driver and Raven Wilson as the passenger.
Both face several charges after a black bag was found in the vehicle containing drug paraphrenelia and an assortment of drugs.
Boyd and Wilson were taken to the Greene County Detention Center.