Bridge in Bluff City Reopened Following Repairs from June 2017 Storm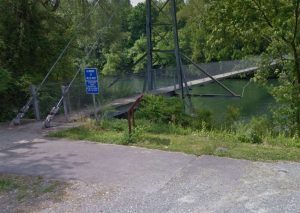 The Sullivan County Highway Department announced that a swinging bridge connecting Silver Grove Road and East Main Street in Bluff City is now reopened.
A storm from last June loosened a wind stablizing cable clamp which led to a failure of 20 feet in the deck structure. The Highway Department enlisted the help a designer and engineer firm to make sure the bridge would be repaired for a safe reopening.
Some of the repairs made to the bridge included a new 20 foot section to replace the old section that had failed, replacing worn out deck boards, and adding clamping around the upper portion of the fencing.
Repair to the bridge and a thorough inspection was completed on Wednesday.