Man Arrested Trying to Pass Off Counterfeit Check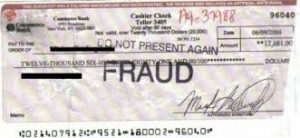 A man trying to pass off a counterfeit check was caught by police.
48-year-old Thomas Cousineau attempted to pass a counterfeit check back on August 16th at the Eastman Credit Union in Johnson City. Once police were alerted about the counterfeit check,they arrested Cousineau, charging him with criminal simulation over $1,000.
He was taken to the Washington County Detention and was held on a $350 bond. His arraignment is set for Thursday in Washington County General Sessions Court