Four Arrested After Traffic Stop Reveals Gun and Drugs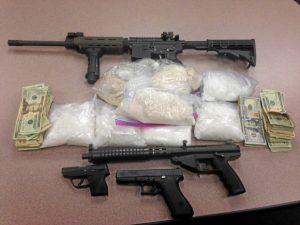 Following a traffic stop in Coeburn, four southwest Virginia residents are behind bars after police found drugs and weapons.
Officers stopped the car driven by Michael Cochran of Pennington Gap for speeding on Central Street. They detected the smell of marijuana coming from the vehicle.
A subsequent search revealed baggies of methamphetamine, syringes, marijuana and a concealed weapon. Lindsey Massie, Anthony Carroll and Jamie Deel, the three passengers in the care were also arrested
The suspects are being held in the Southwest Regional Jail.