Paul Davis Restoration Completes Construction on Damaged Mountain Mission and Starts Go Fund me Page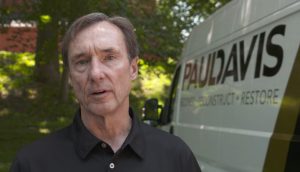 After the Mountain Mission School in Grundy suffered fire damage during a spring storm in April, a local entrepreneur rolled up his sleeves, put on his hard hat and came to their aid.
Charles Skeens, owner and manager of Paul Davis of Greater Tri-Cities, was moved to action after receiving a call in the early morning hours, seeking his help with repairing the damage. Months of hard labor and time spent at the school has been rewarding for Skeens and his crew of workers…
Skeens: "Since April we have been over there, working six days a week, trying to get the boys back into the dormitory. they're going to be moving back in next Tuesday, September 18. It has been a blessing for myself and my employees. Those kids really have a vigor for life."
The Mountain Mission School was founded in 1921 and has served as a home, church and school for thousands of at risk children children during that time. Over 200 boys and girls from Appalachia and worldwide currently attend.
Some of the employees at the school live full time on campus. Some lost their possessions and without insurance have no way of replacing their personal items. Skeens and the construction crew have set up a go fund me page for donations at https://www.gofundme.com/paul-davis-mountain-mission-school