Kingsport Woman Arrested After Paying Visit to the Sullivan County Jail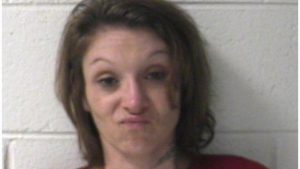 A Kingsport woman is facing numerous charges after visiting and inmate in the Sullivan County Jail.
34-year-old Jennifer Lynn Cole went TO the Sullivan County Jail Extension for a video call with an inmate. She was spotted and authorities know she a suspended license and were investigating her for involvement in narcotics distribution in Sullivan County.
After Cole left the jail and drove off in a Nissan Pathfinder, a deputy followed her and pulled her over. After her license was confirmend suspended, a narcotics K-9 indicated potential drugs inside the vehicle.
A search of the vehicle revealed what police to be a methamphetamine and Xanax. They also found tobacco rolled in electrical tape which Cole told them she was planning on smuggling inside the jail.
Cole was arrested and charge with possession of schedule 2 narcotics for resale, possession of schedule 4 narcotics, possession of drug paraphernalia and driving on a supsended license.
She is being held on a $3,000 bond.