Six Men Charged in death of Washington County Inmate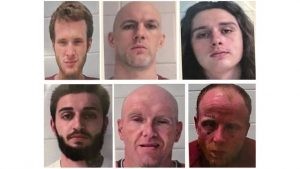 Six people have been indicted in connection with the death of an inmate.
29-year-old Joseph Lockner was found unresponsive inside his cell on December with what investigators intially thought was a medical issue.
However, now the Tennessee Bureau of Investigation believes an assault carried out by six inmates was the cause of Lockner's death who passed away on December 20.
Those charged are Zachary Woodard, Wesley Edwin Clouse, Codey Jame Albu, James Necessary, Glendon Raye Wilkerson and Johnathan Robert Pearson.
Woodard, Clouse, Albu, Necessary and Willerson were all served warrants in the Washington County Detention Center. Pearson, released a week ago, has yet to be arrested.
Anyone with information on his whereabouts is asked to call the TBI at 1-800-TBI-FIND or the Washington County Sheriff's Office at 423-788-1414.