Virginia Senator Bill Carrico Not Seeking Re-election; Delegate Todd Pillion Throws Hat in Race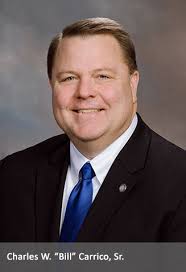 Virginia Sen. Bill Carrico announced that he will not run for re-election in 2019.
Carrico took office representing Virginia Senate District 40 in 2012, after he was a delegate for the 5th District from 2002-2012.
Virginia Senate District 40 represents all of Lee, Scott, Washington, and Grayson counties, all of Bristol, as well as parts of Smyth, Wise, and Wythe counties.
Exactly one hour after Carrico's announcement, Virginia Delegate Todd Pillion announced that he would run for the open seat.
Pillion took office in the Virginia House of Delegates representing the 4th district in December 2014.
He's endorsed by Carrico and fellow Delegate Terry Kilgore.