Johnson City Police Arrest Woman Attempting to Flee Burglary Scene That Gets Stuck in Mud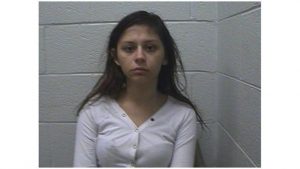 A burglary suspect in Johnson City attempting to flee the scene gets stuck in the mud, leading to her arrest.
A report from the Johnson City Police Department says over the weekend, officers responded to a burglary in progress at the 500 block of Orchard Drive. Police discovered 21-year old Michelle Hoss at the back of the home with her car stalled in the mud.
A search of the vehicle revealed that Hoss had taken items from the residence and further search by officers found additional items like drug paraphernalia on her person.
Police arrested and charged Hoss with aggravated burglary, theft of property, and possession of drug paraphernalia. She is being held on a $22,000 bond and faces arraignment Monday in Washington County General Sessions Court.