Four Charged in Mendota Tire Dumping Scheme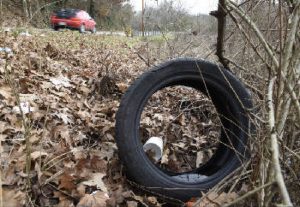 Four people have been charged in connection with the tire dumping which was reported last week in the Mendota community in Washington County, Virginia.
Four people were charged with littering and have been issued a summons to appear in court on June 12.
Those charged are 21-year-old Brandon Castle of Bristol, Tennessee, 23-year-old Robert Fritts of Bristol, Tennessee, 18-year-old Andrew Self also of Bristol, Tennessee and 19-year-old Alexis Jean Clark of Bristol, Virginia.
The Washington County Sheriff;s Office and the Virginia Department of Transportation assisted in the cleanup of about 160 tires dumped over the course of several miles. Those costs totaled $739.16 and additional costs are pending for Waste Management to dispose of the tires.