Authorities Seeking Public's Help in Fatal Russell County Crash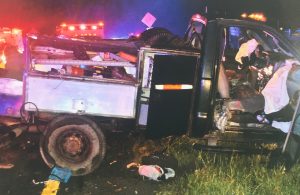 Investigators are trying to piece together the details that lead to a head on collision on Route 19 that claimed the life of two people.
The fatal crash in question occurred on May 3, 2019 at the Russell/Washington County line. Police are seeking the public's assistance concerning the wrong way driver.
Anyone who recalls seeing a dark-colored 2003 Ford F-350 flatbed work truck with flashing amber lights on the cab traveling the wrong way Route 19 on the night of May 3 is encouraged to contact the Virginia State Police at 276-880-4238.
The Ford traveling south in the northbound lane would go on to strike a Nissan Rogue head on and kill 47-year-old Candace Barnes and 66-year-old Brenda Fields both of Rural hall N.C.
The driver of the Ford 51-year-old Treymane Ferguson was treated for minor injuries. He is charged with reckless driving and obstruction of justice for refusing a warrant for a blood sample to be taken as part of the ongoing investigation.