Two Suspects Tied to Multiple Break-Ins in Southwest Virginia Captured in Grayson County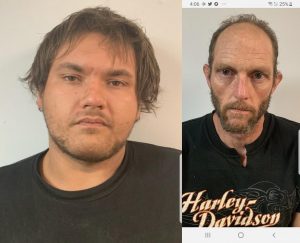 Two suspects out of Southwest Virginia are behind bars following a multi jurisdiction investigation into a theft ring.
Michael Alan Phillips, 23, of Sugar Grove, and James Perkins, 42, of Rural Retreat, were arrested by the Grayson County, VA Sheriff's Office for their alleged involvement in eight break-ins in the Elk Creek and Sugar Grove areas as well as probation violations out of Smyth County. Investigators say they recovered more than $50,000 worth of stolen property so far, with the investigation continuing and more arrests expected. Perkins and Phillips are being held in the New River Valley Regional Jail without bond.
Grayson County was assisted in their investigation by the Wythe and Smyth County Sheriff's Offices, which had been going on for at least a week.
Courtesy of Image: Grayson County, VA Sheriff's Office