Abingdon police searching for driver who smashed into pizzeria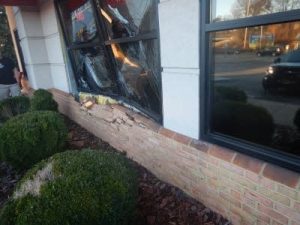 An early morning crash Tuesday caused significant structural damage to an Abingdon restaurant.
The owner of Pizza Inn on West Main Street notified investigators of the hit and run incident that they said was captured on surveillance video just after 12:30 a.m.
The impact resulted in broke windows and a brick wall being smashed in. Abingdon police are asking anyone with information on the case to contact their offices at (276) 628-3111.
(PHOTO: APD)