Police: Daughter allegedly threatened 81-year old mother with machete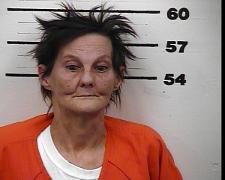 A Rogersville woman is in jail after police say she threatened her 81-year old mother with a machete.
According to a police report from the Hawkins County Sheriff's Office, they were called to a residence in Rogersville on Tuesday, and when they arrived, they found suspect Vicki Lea Vanhorn sitting on the couch next to a firearm which had been brought downstairs out of a safe. Vanhorn's mother told deputies Vicki had made threats towards her with a machete, and after the victim went downstairs, she said Vicki followed her, making more threats with the machete and held it up in her direction. Vicki told deputies the two were arguing over her father, and she admitted to have been drinking during the day.
Vanhorn was arrested on charges of aggravated domestic assault.
Courtesy of Image: Hawkins County Jail