Citizens express concerns of Ballad Health to COPA Local Advisory Council Tuesday night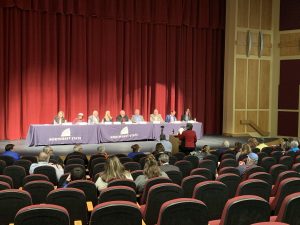 Several individuals expressed frustration with Ballad Health during Tuesday night's COPA Local Advisory Council public hearing.
The public hearing, the second annual hearing held at Northeast State Community College, gives the public an opportunity to address the Local Advisory Council on Ballad Health's annual report, a supervising body over Ballad Health granted by the Tennessee Department of Health as part of the Certificate of Public Advantage created by the Wellmont and Mountain States Health Alliance merger.
Council Chair Dennis Phillips opened up the hearing, stating the council had some questions and concerns in Ballad's report following their review, and also stated the council is not an enforcement agency.
Speakers ranged from patients, physicians, nurses, as well as current and former employees of Ballad Health discussing issues like the effects of consolidation of NICU services and downgrade of the level one trauma center at Holston Valley Medical Center, reports of lengthy wait times at emergency rooms at Ballad facilities, and allegations of unsafe working conditions sometimes caused by short staffing. Some speakers including Dr. Marty Olsen offered solutions to the council for the best interest of citizens.
"Other communities have a hospital authority that answerable to the community, and in my opinion we need something like that. We need some system where elected officials or voters select the board members. I think citizens deserve the chance to believe and hold the board accountable, as well believe that the decisions being made are in their best interest," said Olsen.
Others called for the resignation of Council Chair Dennis Phillips on claims of calling people morons. After public comment ended, he addressed the claim, stating that those comments were made over a real estate sale between his wife and the city of Kingsport, and was not directed towards anyone or anything to do with Ballad Health.
Ballad Health's annual report is available for review here. The council will release its report with community feedback for review no later than 30 days from Tuesday night's meeting.
Courtesy of Image: T.Adams/Supertalk 92.9