Washington Special Olympics athlete sends letter and drawing to Sullivan County Sheriff's Office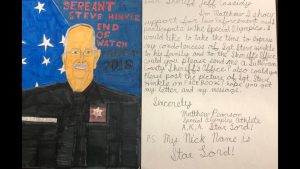 The Sullivan County Sheriff's Office has received a letter and drawing from a special Olympics athlete from Washington.
In a Facebook post, Sheriff Jeff Cassidy shared the news of a letter of support from athlete Matt Pearson, as well as a drawing of fallen deputy Sgt Steve Hinkle. Sheriff Cassidy thanked Pearson for displaying love and support for his officers, and bringing a sense of comfort to Hinkle's family.
Sgt. Hinkle was killed in the line of duty during a welfare check last February.
Courtesy of Image: Sullivan County Sheriff's Office