Committee hears arguments to remove Forrest bust from Assembly hall in Nashville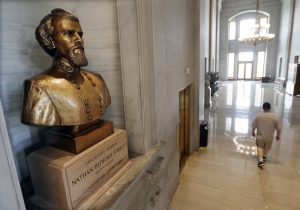 An argument that's been stewing since 1978 continues to gain steam in Nashville.
"It is my idea to move past conversations and ideas that divide us and give us an opportunity to have a conversation on what could bring us together," said House Rep. Rick Staples who is carrying a resolution that would have the bust of Confederate general and Ku Klux Klan member Nathan Bedford Forrest removed from the capital and replaced with others linked to state history.
He suggests Rep. Ann Davis who helped with the formation of the Great Smoky Mountains National Park or William Yardley, the first African-American to run for governor in the state.
Civil War reenactor James Patterson says the Forrest statue must stay to preserve history.
"Monuments and statues haven't been a problem in this state until about 3 years ago and that's when we started hearing all this false narrative of fake history agitated by a radical agenda which is more about the destruction of American history than just American history," Patterson said during a hearing of the Naming, Designating and Private Acts Committee.
If lawmakers decide to endorse Staples' resolution, the State Capitol Commission would have the final decision. The Forrest bust issue is not on the commission's agenda for February.
(PHOTO: Mark Humphrey / Associated Press)