Washington County, TN Commission approves inter-local agreement for capital improvement funding for four Johnson City elementary schools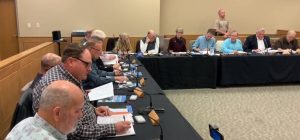 Commissioners in Washington County, Tennessee have approved a inter-local agreement between the County and Johnson City for spending $12.5 million on capital improvements to four city elementary schools over the next 25 years.
During the meeting last night, the commission voted 10-4 with one absent to move forward with the inter-local agreement that will provide funding at a yearly rate of $500,000. Schools involved include Woodland, South Side, Lake Ridge, and Town Acres Elementary Schools. This agreement follows the approximate $32.75 million agreement between the county and Town of Jonesborough to build a new K-8 school.
The proposed terms are available here.
Photo Courtesy: Washington County, TN Commission Meeting 2-24-2020