Evelyn Boswell's grandmother and William McCloud each make appearances in court in Bristol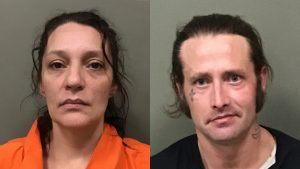 Angela Boswell, the grandmother of missing toddler Evelyn Boswell, and William McCloud each made appearances in Bristol Sessions Court earlier Wednesday morning.
Both are facing charges of theft of property over $2,500 in connection to a gray BMW which was the subject of a BOLO issued by the TBI for seeking more information on the disappearance of Evelyn. The BMW was reported stolen according to a court affidavit and both were arrested last month in Wilkes County, NC. Boswell said to Judge Klyne Lauderback she is still searching for a lawyer after not hearing anything back from multiple lawyers in the area. She also mentioned that she feels her charges are nothing more than a civil matter.
Meanwhile, William McCloud and his lawyer were ready to move forward with a preliminary hearing, but the state was not yet ready. The duo are scheduled to appear back in court March 24th at 9:00 A.M.