Ballad CEO forgoing pay for next 60 days, will help with fund towards assisting Ballad employees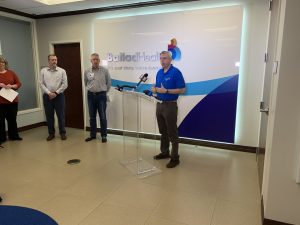 Ballad Health CEO Alan Levine is forgoing 100% of his salary for the next 60 days to contribute to a fund dedicated towards assisting Ballad employees.
Levine announced Wednesday morning on Twitter that team members within the system are being economically affected as elective surgeries have slowed in both TN and VA. Levine says health care systems like Ballad serving high poverty and low commercially insured communities are faced with potentially massive financial losses, and as of now, Ballad continues to work to ensure they have the resources to provide care to the region.
Levine reiterated a message he stated in Tuesday's press conference, urging anyone dealing with any issues that impacts their mental health to reach out and speak with someone.
Photo Courtesy: Supertalk File