UPDATE: Virginia braces for recession as governor places freeze on state hiring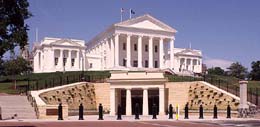 Lawmakers in Virginia will likely have a series of cuts to consider for a $135 billion biennial budget when they return to Richmond later this month for the annual veto session.
The news of budget cuts comes as Governor Ralph Northam places a freeze on all state job hiring while sending out directives to the head of state agencies asking them to look for ways to save money while an all-but-certain recession looms in the future.
Planned raises for school teachers and expanded spending for social services are in danger of being wiped out due to Virginia spending millions to fight the coronavirus.
(PHOTO: Virginia Dept. of Historic Resources)