UPDATE: More mobile COVID-19 test sites this week in Tennessee and Virginia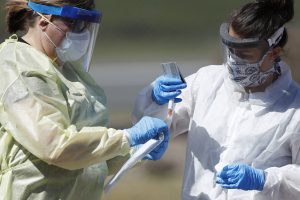 State health officials in Tennessee and Virginia are rolling out more COVID-19 testing sites in the region.
Valley View Baptist Church in Clintwood will host one remote site on Wednesday and Thursday's testing will take place at Gate City Middle and High School. Both test locations will be open from 9 am to 1 pm.
Participants for those locations must pre-register by calling (276) 926-4979 in Dickenson and (276) 386-1312 in Scott.
Another round of weekend testing is taking place for Tennessee residents—Saturday at the Greene County Fairgrounds and Sunday at Volunteer High School in Church Hill. Those test areas will operate from 9 am to 3 pm.
The tests are free and residents can just drive up for a screening.
(PHOTO: Associated Press)