Report: ETSU's Steve Forbes and Wake Forest nearing deal to make him next head coach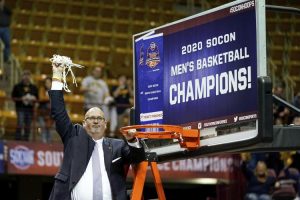 Multiple media sources are reporting ETSU Men's Basketball Head Coach Steve Forbes is set to become the next head coach at Wake Forest.
Several media reports including the Winston-Salem Journal say Forbes and Wake Forest have reached a deal in principle to make him the next head coach. In five seasons at the helm in Johnson City, Forbes has led the Bucs to 130 wins and one NCAA tournament appearance, which would've been two had the tournament not been canceled this year.
We will continue to monitor this developing story.
Photo Courtesy: East Tennessee State head coach Steve Forbes waves the basketball net in the air after he cut the remaining piece off the rim to celebrate his team's 72-58 over Wofford for the NCAA men's college basketball championship for the Southern Conference tournament, Monday, March 9, 2020, in Asheville, N.C. (AP Photo/Kathy Kmonicek)