Second Lady Karen Pence to appear at event in Great Smoky Mountains National Park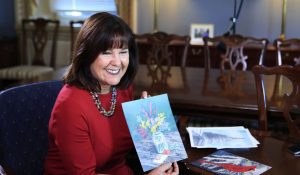 Second Lady Karen Pence is scheduled to appear in East Tennessee on Tuesday as part of the president's "Opening Up America Again" initiative.
A report from The White House says Pence will travel to the Great Smoky Mountains National Park for a ceremony that will reopen the roadway to Clingman's Dome as well as touch on mental health awareness.
The Smokies was the first large-scale national park in the US to reopen following the COVID-19 safer-at-home order that stretched over several weeks. Pence has been focusing on helping those cope with fear and uncertainty during the pandemic.
(PHOTO: Associated Press)