UPDATE: All 20 hikers stranded at the Devil's Bathtub now rescued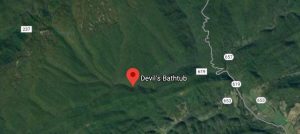 All 20 hikers who were stranded in the Devil's Bathtub area in Southwest VA have been located.
Duffield Volunteer Fire and Rescue Chief Roger Carter confirmed that all hikers originally stranded in the area were safely rescued as of 10:00 a.m Monday morning. Severe storms that passed through the area Sunday evening caused creeks along the trail to rise as much as five feet according to Chief Carter, stranding the individuals along parts of the trail. Officials estimate the search and rescue operation took approximately 15 hours.
The only injuries reported were some cases of mild hypothermia. No emergency personnel were injured during the search.
Photo Courtesy: Google Maps