Spokesperson: Domtar's Kingsport mill to remain idle through August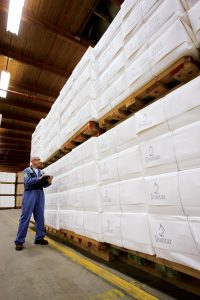 A spokesperson with Domtar Corporation says their Kingsport mill will remain idle through August due to lack of demand for communication paper grades.
In a statement sent to Supertalk, Stefan Nowicki, Domtar Government Relations and Communications Manager, says the drop in demand has been brought on by COVID-19, and although the company has seen parts of recovery with the economy restarting in areas of the country, Nowicki says it's not enough to justify resuming operations in Kingsport and another mill in Arkansas.
Domtar says they will continue to assist and care for their employees and families during the closure. The mill's April temporary closure saw 304 workers laid off.
The full statement can be found below:
"The COVID-19 pandemic and resulting economic slowdown continue to negatively affect demand for communications paper grades. While some recovery in demand for communications paper has occurred as the economy has started to re-open, unfortunately, Domtar has not seen enough demand recovery to justify restarting operations at the Kingsport Mill and on the A62 paper machine at the Ashdown Mill at this time. Therefore, we have decided to extend the idling of our Kingsport Mill and the Ashdown A62 paper machine through the end of August to maintain a balance between our production needs and our customer demand We will continue to assist and care for our employees and their families during this time."
Photo Courtesy: Domtar