UPDATE: Two arrested, one suspect sought in Greene County following discovery of deceased person in wrecked car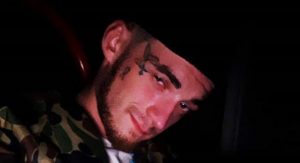 Two people have been arrested and police are searching for a suspect charged after officers found a deceased individual in a wrecked car earlier this week in Greene County.
The Greene County Sheriff's Department is looking for suspect Adrian Edward Kiser, 24, who is charged with second degree murder reportedly in connection to the case, while officials have arrested Zachary Allen Richards and Elizabeth Lee Poe Phillips, who are both charged with facilitation of 2nd degree murder.
Both individuals are being held on a $250,000 bond.
Kiser's last known location was in Johnson City, and if you see or know of his whereabouts, please call 911 or the Greene County Sheriff's Department.
Additional photos of Kiser are found below:
Photo of Zachary Allen Richards
Photo of Elizabeth Lee Poe Phillips
Photo Courtesy: Greene County Sheriff's Department