UPDATE: Masks are required for fans at Bristol Motor Speedway during July 15's All-Star Race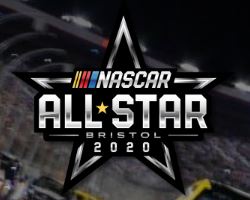 Organizers at Bristol Motor Speedway continue to prep for NASCAR's All-Star Race and remind fans that masks will be required in all common areas including concession areas, walking in the concourses, restroom areas, and once they enter the track campus.
All tickets purchased by fans will be digital to minimize contact during processing and in-person ticket and will call areas will be closed for that event on July 15. No tram service will be available and golf carts will be reserved for fans that need special assistance.
Seating is being strategically assigned to fans to help ensure social distancing in the stands where fans are allowed to take off their masks. All guests who enter the BMS suites will be temperature screened.
A total of 30,000 tickets are being sold for the event, making it one of the largest crowds to watch a sporting event in the US since the pandemic.
(PHOTO: SuperTalk Archives)