Flag Flap: President Trump calls noose investigation at Talladega a 'hoax,' criticizes NASCAR's confederate flag ban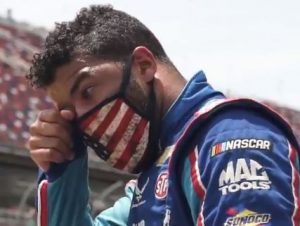 President Donald Trump criticized NASCAR on Monday for banning the Confederate Flag and called the discovery of a garage bay door cord tied in the shape of a noose at Talladega Superspeedway a hoax.
In a post on his Twitter account, Trump asked if Cup Series driver Bubba Wallace had apologized to drivers and officials who came to his aid following an FBI investigation to determine if Wallace had been the target of a hate crime.
Has @BubbaWallace apologized to all of those great NASCAR drivers & officials who came to his aid, stood by his side, & were willing to sacrifice everything for him, only to find out that the whole thing was just another HOAX? That & Flag decision has caused lowest ratings EVER!

— Donald J. Trump (@realDonaldTrump) July 6, 2020
The FBI determined the rope had been in that particular area of the track since 2019 and had been shaped like a noose.
To the next generation and little ones following my foot steps..#LoveWins pic.twitter.com/tVaV3pkdLe

— Bubba Wallace (@BubbaWallace) July 6, 2020
— NASCAR (@NASCAR) June 23, 2020
Wallace led the charge to have the confederate flag banned from all NASCAR tracks and events which the sport adopted last month. That movement earned Wallace praise from around the circuit including from Bristol Motor Speedway.
My family. pic.twitter.com/031TvNDopA

— Bubba Wallace (@BubbaWallace) June 23, 2020
Trump also mentioned that the flap had caused TV ratings to go down. An official from FOX Sports told the Associated Press on Monday that ratings had actually increased 8 percent since racing returned from the pandemic pause in March. Published reports on Monday said NBC's coverage of the Brickyard 400 led all programs in ratings Sunday night with 4 million viewers. NASCAR noted that those numbers are up 46 percent from last year's event at Indianapolis.
The President received an endorsement from then-NASCAR President Brian France during a 2016 campaign stop in Georgia that featured appearances by drivers Chase Elliott, Ryan Newman, and David Ragan.
— Bubba Wallace (@BubbaWallace) June 24, 2020
(PHOTO: NASCAR Images)