JC Schools requesting parents choose in-person or online option for students through filling out online application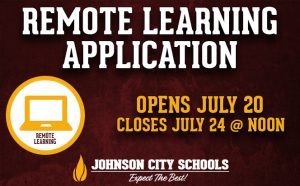 Applications to learn remotely for Johnson City School students for this academic year are now available.
Starting today through Friday, the school district is asking parents to choose between sending students to learn in-person or take classes online. Parents wanting to choose the online option need to fill out the application process on the Johnson City Schools website.
Families that do not complete the application are indicating they are choosing the in-person learning option for their student. The link to that application is available here.
Photo Courtesy: Johnson City Schools