Science Hill bridge safety concerns, $1.3M to tear down and rebuild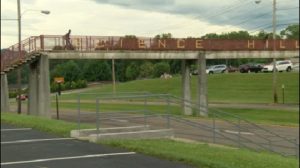 Roughly 100 students cross the Science Hill Bridge every school day, but 50 years of wear and tear has many Johnson City leaders concerned.
Many parents have spoken out about how the bridge helps their children get to school safely by avoiding busy traffic on John Exum Parkway.
Mayor David Tomita suggests closing the bridge and creating a gateway sign as an alternative to tearing it down. The mayor says the $1.3M investment to tear down and rebuild the bridge is simply not justifiable for the amount of people that cross it.
To rebuild, crews would have to install ramps or an elevator to meet American with Disabilities standards. If the bridge is torn down, the city will spend several thousand dollars to upgrade a crosswalk near the school to give students another option.
A decision on the bridge should be made in the next few months.