Bluff City Woman Arrested for Stealing Vehicle, DUI in Kingsport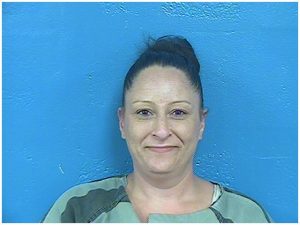 Drinking and stealing don't go well together as a Bluff City woman learned Wednesday morning.
The Sullivan County Sheriff's Office says they received a call just before 6:30 A.M. from a resident of Grimes Circle in Kingsport, to report that a person was entering neighbor cars and while on the phone, that same person stole a vehicle.
Police responding to the incident found a vehicle matching the description of the stolen car on Fort Henry Drive.
Officers pulled the vehicle over, and when asked to exit the stolen car, suspect 38 year old Mandy Simerly refused. Police removed her from the car, and as they did, the stolen vehicle not in gear rolled into the back of a deputy's cruiser, causing slight damage.
Police arrested Simerly and charged her with motor vehicle theft, DUI, two counts of theft over $1,000 for taking items from vehicles in the neighborhood, and one count of vandalism under $1,000.
The Sheriff's Office advises those in that neighborhood to contact the Office to file a report if they notice any missing items.