Man Robs Bank in Mount Juliet, TN; Police Believe Suspect Matches Description of Same Man Who Robbed Banks in Asheville and Johnson City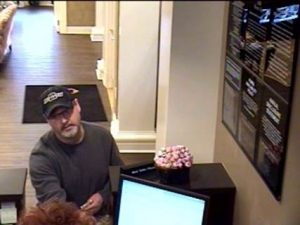 A man accused of robbing multiple banks, including the Mountain Commerce bank in Johnson City, strikes again, this time near Nashville.
According to information from the Mount Juliet Police Department, officers were called to US Bank around 1 P.M to a report of a robbery.
Investigators say the suspect entered the bank and handed a note to a teller demanding cash. After receiving an undisclosed amount, the man fled from the bank.
Police described the suspect as a white man with a medium build, possibly in his 40's or 50's, wearing a black ball cap, black jacket, white shirt, and blue jeans.
Authorities believe the description of the suspect matches the same man who robbed banks in Asheville and Johnson City.
Anyone with information on the case can contact the Mount Juliet Police Department at (615)-754-2550, the anonymous tip line at (615)-754-TIPS (8477), or online at www.mjpd.org. The FBI Office is Memphis is also taking calls about the case and can be reached at (901)-747-4300.