VCEDA reports banner 2019, with several hundred jobs added and 40 plus project announcements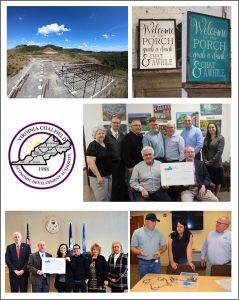 The Virginia Coalfield Economic Development Authority reports 2019 was among the most active year in the authority's history.
Over the course of the year, VCEDA helped to create over 500 jobs thanks to 42 projects and 7 expansions, with investment totals over $28.5 million.
"In terms of marketing events, prospect visits, new projects, loan/grant approvals and loan/grant closings, 2019 was the most active year in VCEDA history," said Jonathan Belcher, VCEDA executive director/general counsel. "Projects were announced and funding was approved in all eight localities in the VCEDA region which includes Buchanan, Dickenson, Lee, Russell, Scott, Tazewell and Wise counties and the City of Norton."
Notable project announcements by the authority includes Canadian manufacturer Polycap bringing a facility to Russell County, expansion of services and creation of over 100 jobs by Sykes-Intuit Enterprises into Wise County, and a recent grant awarded to Breaks Interstate Park that intends to create North America's longest pedestrian swing bridge.
"The level of activity and interest in our region during 2019 was notable," Belcher said. "Not only did we set records for new projects, but we also set them for prospect visits."
To read more about VCEDA's 2019 year in review, click here.
Courtesy of Image: VCEDA