Assortment of weapons, drug seized in Washington County, Virginia traffic stop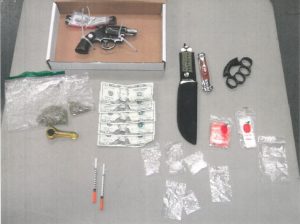 Drugs and an assortment of weapons were seized by Washington County, Virginia deputies following a traffic stop.
A report from Sheriff Blake Andis says a K9 officer alerted officers to the presence of illegal items and a vehicle search was conducted. They found switchblade knives, brass knuckles, and a handgun were recovered along with meth and marijuana. Desiera Hess, Jacob Cosgrove, and Morgan Perry, all of Bristol, Tennessee, were released on their own recognizance, while Joshua Hubbard, also of Bristol, was held on a $1,500 secured bond.
All four face weapons and drug charges.