Police: Motorcyclist allegedly dragged officer while being investigated for road rage incident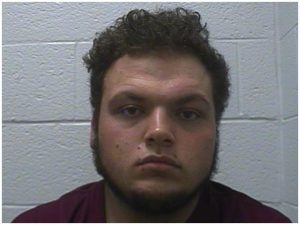 Johnson City Police have arrested a man after he allegedly dragged an officer with a motorcycle while being investigated for a road rage incident.
The department says on Tuesday, police were called to investigate a hit and run near State of Franklin and Watauga Avenue involving a motorcycle and pedestrian. An officer found William Kaywood a short distance from where the incident occurred, where a report says he tried to remove Kaywood from the motorcycle, but the suspect fled, dragging the officer, before crashing.
A further investigation revealed Kaywood hit a vehicle's mirror after his friend was cut off by that vehicle in traffic. Kaywood faces three charges including vandalism under $1,000, evading arrest, and aggravated assault. Kaywood is scheduled for court today at 1:30 p.m.
Courtesy of Image: Washington County Detention Center