Two hospitalized, charges pending after head-on collision partially shuts down Highway 66 in Hawkins County Thursday night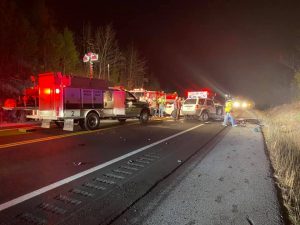 Two people were taken to the hospital and charges are pending following a head-on crash Thursday night in Hawkins County.
According to a Tennessee Highway Patrol crash report, a 2002 Ford Escape operated by Jonathan Tackett, 27, of Rogersville, was traveling south on Highway 66, when he entered into the path of a 2011 Mazda driven by Kendra Walker, 31, also of Rogersville, colliding in a head on type collision. The Hawkins County Rescue Squad says the roadway was shutdown for a short time while crews cleaned up the wreckage.
Both drivers conditions are unknown at this time, and Tackett is facing charges in the crash.
Courtesy of Image: Hawkins County Rescue Squad